2020
Activities during COVID-19 at IIIT Nagpur
Video - 1
Video - 2
:: COVID CARE App ::
Under the mentorship of Dr. Anuradha Singh and Dr. Kirti Dorshetwar a second year ECE student Mr. Sahil Kesharwani (BT18ECE032) has developed an android app "COVID CARE".
For the details of the "COVID CARE" app Click Here
The video related to "COVID CARE" app
For any other details related to "COVID CARE" Click Here
:: SoDi App ::
SoDi App is developed by Mr. Kartik Kinge (BT16ECE003), final year student of IIIT Nagpur.
SoDi is an Augmented Reality application to help people visualize proper social distancing. It is advised to keep a distance of 6 feet with each other when you are in public places during coronavirus pandemic
The application uses ARCore surface detection to track the surface and draws a circle of radius 6 feet around the user. The goal is to keep everyone out of your red zone to follow proper social distancing when using the app.
App Download Link: https://kingekartik.github.io/SoDi-Social-Distancing-AR/SoDi.apk
For SoDi Apps demonstration snaps see below;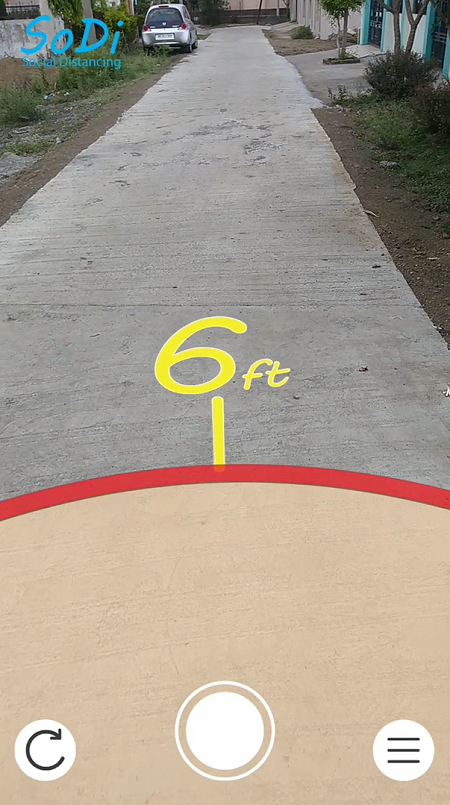 SoDi Apps demonstration see video
:: COWAR App ::
The Mobile app developed by Second Year CSE students of IIIT Nagpur on COVID- 19 for the use of Corona Warriors (COWAR App).
For more details of video presentation see below;
Start-up
AR Vidhya – A start up founded by Mr. Kartik Kinge (ECE) is based on Augmented Reality and E-Learning
For more details visit at http://arvidhya.com/
Project Innovation
Name of the Faculty and Student

Project Name

Model Photo

Details of participation in Competition / Work details

Dr. Aatish S. Daryapurkar

Kartik Kinge (BT16ECE003)

Aunshri Laddha (BT16ECE010)

Rohit Agrawal (BT16ECE015)

Gesture controlled Car

Technex'17, National Level Techfest of St. Vincent Pallotti College of Engineering & Technology, Nagpur.

Dr. Aatish S. Daryapurkar

Kartik Kinge (BT16ECE003)

Rohit Agrawal (BT16ECE015)

Gravity based Green Energy Lamp

Best Innovation Awards 2017, G.H Raisoni College of Engineering, Nagpur and Pune

Dr. Aatish S. Daryapurkar

Kartik Kinge (BT16ECE003)

3D - Augmented Reality

IIITN campus with Augmented Reality, where it would be new way to make our campus more Informative, Interactive and Entertaining.

Dr. Aatish S. Daryapurkar

Yash Kudesia (BT17CSE039)

Kartik Gupta (BT17CSE037)

Ganesh Sonwale (BT17CSE062)

Prabhas Prasad (BT17CSE021)

Arnav Doifade (BT17CSE010)

D Nagaraju (BT17CSE017)

Load Carrier Robot

LCR is an electro mechanical device that runs on the principle of Remote controlled car.

The main idea of LCR is to reduce the working efforts.

Dr. Aatish S. Daryapurkar

Abhibha Gupta (BT17CSE020)

Himabindu Thoguru (BT17CSE056)

Swati Yadav (BT17CSE061)

Richa Agarwal (BT17CSE040)

Power Shoe Using Piezoelectricity

When pressure is applied to piezoelectric devices placed below the shoe, they will produce AC voltage which will further be fed into the bridge rectifier which turns AC voltage into DC voltage.

Further this DC voltage goes into the rechargeable battery of 8 volts which will get charged.

Dr. Aatish S. Daryapurkar

Dr. Vipin Kamble

Rohan Shukla (BT17CSE003)

Blindsight

1st round qualified and participated in final round in the "SRAJAN'S 19" competition organized by Maulana Azad National Institute of Technology, Bhopal on 23rd -24th February 2019

Dr. Aatish S. Daryapurkar

Dr. Vipin Kamble

Saurav Gajbhiye (BT17CSE069)

Purva Goydani (BT17CSE072)

Vedant Gannarpwar (BT17CSE073)

Pranav Rabade (BT17CSE069)

Kaushik Yelne (BT17ECE040)

Harshal Khandait (BT17CSE074)

Hydroteq

The "THE TERRIFYING NIGHTMARES" has won the competition "Smart India Hackathon-2019, Agriculture Hardware Edition" and bagged the Trophy and prize money of Rs. 1 Lakh.